From the Chair:
Dear Democrats,
In 2020, Michigan voters turned out in historic numbers to cast their ballots and make their voices heard. In response, Republican state lawmakers are attempting to undermine voter access by introducing unnecessary legislation designed to create barriers to voting, limit the authority of the Secretary of State, and inject partisan politics into election administration. We can't allow the GOP to endanger our democracy and circumvent every Michiganders' right to fairly and safely access the ballot box. Regardless of race, gender, religion or zip code, Michiganders want all of our voices to be heard in our democracy and all of our rights to be respected.  We cannot sit idly while the Republican Party attempts to restrict our voting rights.  Our State Senator, Republican Tom Barrett is fully engaged with the GOP and we must make sure he knows where we stand.  Call, email, or write Senator Barrett and tell him to stop attacking our voter rights with unnecessary changes.  We know that Michigan and our Secretary of State, Jocelyn Benson conducted a fair and safe election across the State.
We are still in need of volunteers to work on all of our committees.  You can visit our website for a complete listing and description of every committee.  Please volunteer now as we need to start our work now for the 2022 election cycle.  If we are going to be successful in keeping Eaton County blue, we cannot wait until next year.  If you cannot work on a committee but you will be able to volunteer for a variety of jobs for the election let us know by emailing us.  We will keep the information for future reference as we need volunteers.  Don't forget that we need donors as well.
Joseph D. Chin, Jr.
Chair
Events 
ECDP MONTHLY MEETING 
Thursday, May 20, 2021
7:00 p.m. 
Via Zoom
Support Governor Whitmer Signs
If you would like to support Governor Whitmer as she continues to keep Michigan families safe from COVID, please consider buying a yard sign or two
.
$10 minimum donation. Please purchase this sign to help raise funds for the Eaton County Democratic Party! Quantities are limited.
Signs will not be shipped. We will contact you to make arrangements to obtain your signs.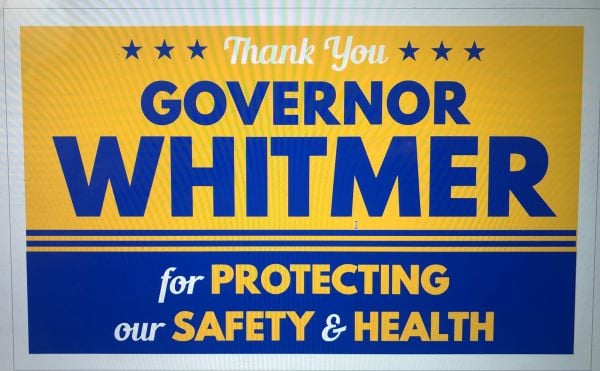 Support Eaton Co. Dems
Help support Democrats all over Eaton County with a donation to our PAC. Click the button to donate with a credit card.
This Web Site is paid by the Eaton County Democrats Executive Committee
727 Bonnie St., Charlotte, MI 48813