From the Chair
Get Engaged, Get Involved!!
Fellow Democrats,
I would like to thank all of the volunteers that helped with our booth at the Eaton County Fair this past week. A special thank you to Landon Myers for all of his extra time and assistance with setting up the booth and tearing down.  It was an interesting week to say the least.  We will continue to have a busy month with 2 strategy sessions, our business meeting, and another "tour of the county" fund raiser for our County Commissioner candidates.  August will not be a slow month with our County Convention on August 6 and the State Nominating Convention on August 20-21 in Lansing.  All Eaton County Democrats that are MDP members are urged to attend both and participate in voting. 
For the State Convention, if you have a resolution that you would like to have presented, please submit them to me no later than noon on August 5.  We will present them for approval at our County Convention on August 6 and forward the approved resolutions to the State Party.  At the last convention, every resolution that the Eaton County Democrats submitted were adopted by the State Party.  You can send them to: eatoncountydems@gmail.com.
Tom "Covid" Barrett continues his fight against the working middle class by voting against jobs creation, most recently by Ford Motor.  He was also one of only 2 State Senators to vote against the bi partisan education budget that will benefit public schools, universities, and community colleges.  He is certainly out of touch with middle class Michigan residents as well as his own Republican party, despite his claim of being a "middle class" conservative.   We must do everything we can to defeat him in November and elect Elissa Slotkin as our Congressional Representative for the 7th Congressional District. 
With the primary election occurring in just 2 weeks and the general election just around the corner, it is important, if we are to win in November, that every Democrat gets involved in one way or another, with the campaigns of the Democrats running in your area.  Volunteers are needed for every candidate, whether for County commissioner, State Representative, State Senate, Governor, Secretary of State, Attorney General, and Congress.  There are opportunities for everyone from making calls, stuffing envelopes, walking neighborhoods, etc.  I will be posting areas that Democratic poll workers are needed in order to keep a balance of Democrat and Republican poll workers.  We have a few voting precincts that are out of balance and could use additional democratic workers.  I will post those areas after the August primary. 
Another opportunity to help Democrats to win in November is to become a precinct delegate.  You can easily become a write in candidate by filing as a write in by July 29 for the August 2 election.  All you are required to do is to have a short form (Write in candidate declaration of intent) filled out, and notarized. After you file the notarized form with the County Clerk all you have to do is write in your name on the ballot under the Democrat Precinct Delegate section.  You can have your friends, neighbors, relatives that live and vote in your precinct can also write in your name to vote for you.  It will only take one vote to get elected, but the name written has to match the name you put on your form.  Additional information with be in the newsletter.
Don't forget that after the general election in November, we will need to elect officers and county committee members for the 2023-2024 election cycle.  Please consider running for an office and/or the county committee. 
Joseph D. Chin, Jr.
Chair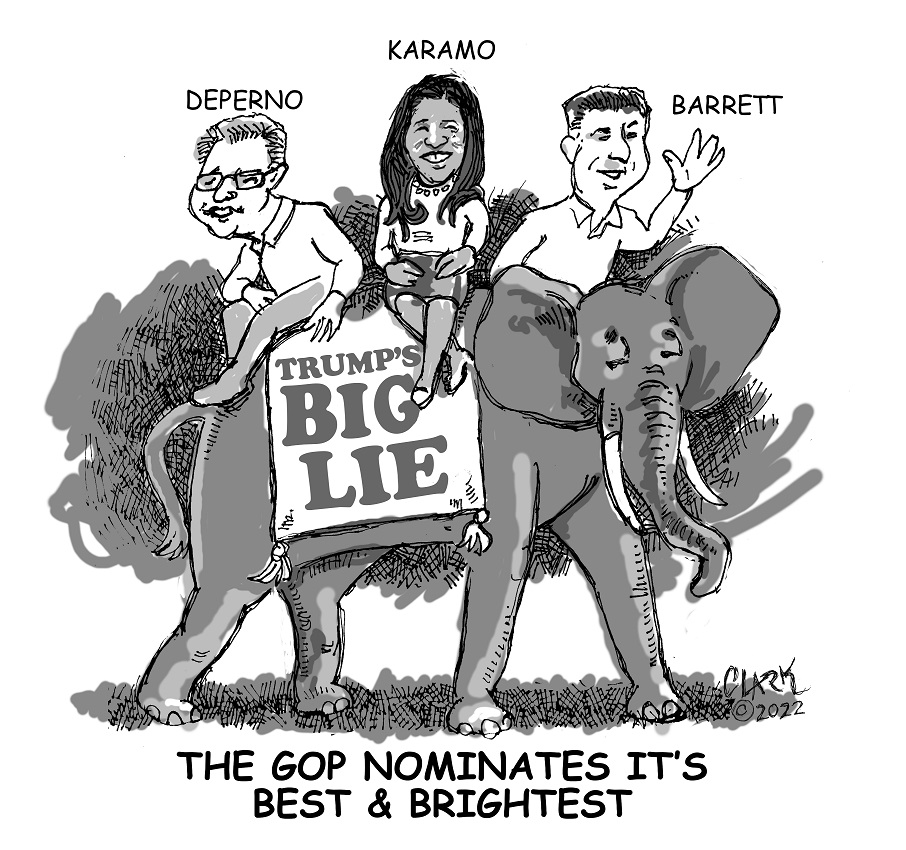 Events 
ECDP COUNTY MONTHLY MEETING 
Thursday, August 18, 2022
6:30 P.M.
Charlotte Community Library and ZOOM

The Michigan Democratic Party looks forward to seeing you at our State Nominating Convention in August at the Lansing Center, 333 E. Michigan Ave in Lansing, Michigan.
We will stand with our friends and neighbors to defend democracy and support our strong Democratic candidates from the bottom of the ticket to the top.
Support Eaton Co. Dems
Help support Democrats all over Eaton County with a donation to our PAC. Click the button to donate with a credit card.
Cannot call API for app 222116127877068 on behalf of user 10225611030443907
This Web Site is paid by the Eaton County Democrats Executive Committee
727 Bonnie St., Charlotte, MI 48813