Hello Democrats!
From the Chair:
We had a good turnout at our Convention and January Business Meeting.  Thank you to members and supporters for stepping in to chair some of our committees and to volunteer to serve on the committees.  We still need some help on a couple of committees:
Policy & Resolutions– we need a couple of people to help.  We have a chair and one member at this time.
Rural – We would like members that live in the rural areas of the County so that ECDP can fully understand the needs of the rural committees. We need your input.  We need a chair and at least 3-4 members. 
Young Democrats– We have a chair and one volunteer so far.  We need at least 2-3 additional members for this committee.  This committee will help the ECDP understand the important issues that our younger members have.
If you are willing to volunteer, please email me.  All the committees are meeting virtually and you can participate without leaving the comfort of your home. 
At our County Convention, we elected Bilky Joda-Miller to represent the ECDP on the MDP Rules committee and passed 2 resolutions requesting action to be taken against Tim Walberg and Tom Barrett for their attempt to discount the democratic votes of the people, even after numerous courts, state republican leaders of the Senate and House, Trump officials, declared that no voter fraud existed.  Their continuing attack and lies regarding the election results help fuel the insurrection and attack on our government on January 6, 2021.
One of our goals this year is to increase our membership.  We have approximately 132 current members and we know that we have over 500 democrats that are on our mail list, and we have close to 1,000 followers on our facebook page.  Membership is easy by going to the Michigan Democratic Party Website.  You can join for as little as $0 dollars or any amount you wish to donate.  You can click the link on our website under Resources/Involvement.  If you would like to receive email notifications and information, you can go under the contact page and sign up. 
We need to begin now to raise funds for our next election in 2022.  Please consider a monthly donation of $5.00-$10.00.  All you need to do is click the donate button on the home page and set this up. Of course higher amounts will be most welcome.  You can also make a one time donation if you are more comfortable.  Donation checks can be mailed to our address at the bottom of the home page. We will be facing some heavy financing by the Republicans in 2022 and with limited opportunities to hold fund raising events, we must appeal to you early.  Please consider helping us. 
Joseph D. Chin, Jr.
Chair
Events 
ECDP MONTHLY MEETING 
Thursday, February 18, 2021
7:00 p.m. 
Via Zoom
Support Governor Whitmer Signs
If you would like to support Governor Whitmer as she continues to keep Michigan families safe from COVID, please consider buying a yard sign or two.
$10 minimum donation. Please purchase this sign to help raise funds for the Eaton County Democratic Party! Quantities are limited.
Signs will not be shipped. We will contact you to make arrangements to obtain your signs.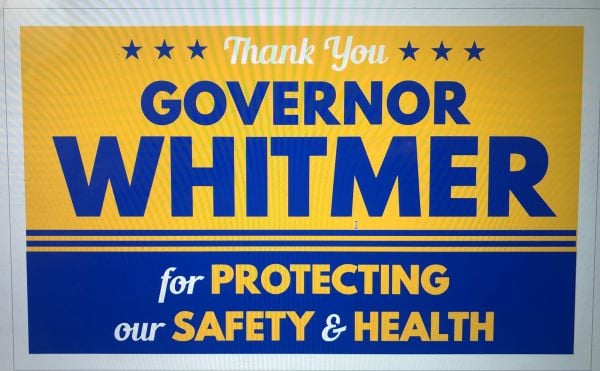 Support Eaton Co. Dems
Help support Democrats all over Eaton County with a donation to our PAC. Click the button to donate with a credit card.
This Web Site is paid by the Eaton County Democrats Executive Committee
727 Bonnie St., Charlotte, MI 48813