From the Chair:
Dear Democrats,
Get Engaged, Get Involved!!
This will be our call until the November 2022 elections.  Even though we do not have any major elections this year, it is not a time that we can sit on the sidelines and just wait until the heat of the election cycle hits us in the fall of 2022.  If we do not begin now, it will be too late and the risk of losing Democrats in office will be a reality.  Right now the Republicans are fully engaged in attacks and actions to hurt all Democrats in Michigan and the entire country.  We cannot stand aside and let this happen without a fight.  I urge all of you to join us today in preparation and actual action to fight this all out assault. 
There are a couple of key issues today that needs your involvement.  Redistricting efforts, which will lay the foundation in which we will need to operate under for the next 10 years, is currently in process.  Major changes affecting our County are being proposed, and Republicans are participating in larger numbers that Democrats in order for their party to hold on to their gerrymandered districts.  We need volunteers to speak, submit comments, and participate in the process.  There are 3 ways to participate, in person, via Zoom virtually, and by submitting written comments.  Go to the website and instructions and meeting dates are all available.  www.michigan.gov/micrc . The next key issue will begin shortly, which is the petition drive to enact several voter suppression acts in response to the Donald Trump cry of unfair elections (which was reported by the Republican Party in Michigan as being false).  "Stop the Sign" is the theme adopted by the Democratic Party.  This petition drive will allow a very small number of registered voters who sign the petition and it allows the Republicans to adopt the bills that the Governor will be unable to veto.  We must not allow this to happen.  We must get involved by encouraging voters not to sign the petitions once they are finally approved. 
Please get involved where you can, get engaged in our democratic processes today! We will keep you informed via email, web, and our social media accounts as thing progress.  We cannot allow the Republicans to steal our future!
Joseph D. Chin, Jr.
Chair
Nomination Petitions for Governor Whitmer
We have nomination petitions available and we need your help!  We have 2 locations available for pick up.  If you are interested please send an email to: eatoncountydems@gmail.com. 
Events 
ECDP MONTHLY MEETING 
Thursday, October 21, 2021
7:00 p.m. 
Topic: ECDP Monthly Business Meeting
Time: Oct 21, 2021 07:00 PM Eastern Time (US and Canada)
Join Zoom Meeting
https://us02web.zoom.us/j/86909130778?pwd=QU1hTW5OVzUySnE1cVl6b1hQdXRwUT
Dial by your location
+1 646 558 8656 US (New York)
+1 301 715 8592 US (Washington DC)
+1 312 626 6799 US (Chicago)
Meeting ID: 869 0913 0778
Passcode: 173605
Find your local number: https://us02web.zoom.us/u/kcwlc22me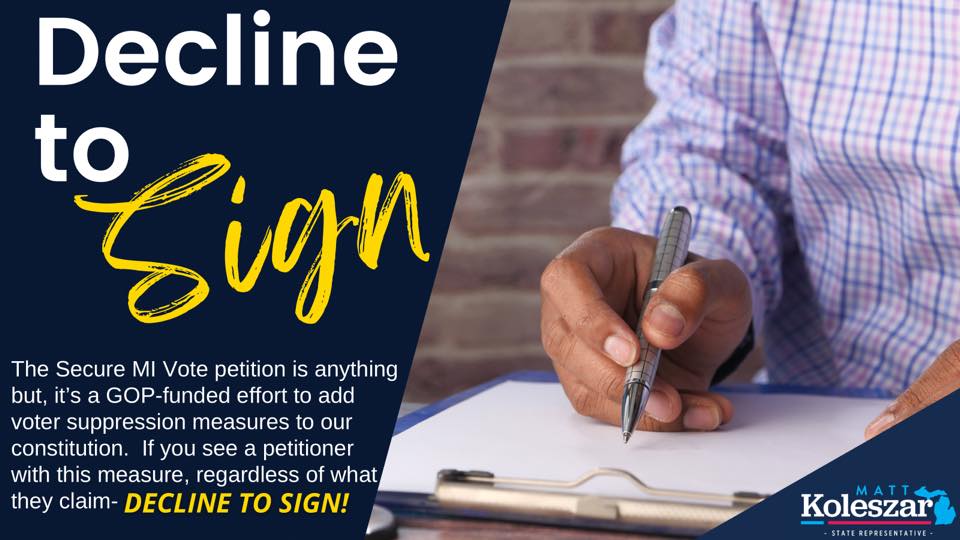 New Billboard on I-69 at Nixon Rd. in Eaton County

Support Eaton Co. Dems
Help support Democrats all over Eaton County with a donation to our PAC. Click the button to donate with a credit card.
Cannot call API for app 222116127877068 on behalf of user 10225611030443907
This Web Site is paid by the Eaton County Democrats Executive Committee
727 Bonnie St., Charlotte, MI 48813