Welcome!
We are Eaton County Democrats – people from rich and diverse backgrounds; a community-based organization working for the interests of all citizens in Eaton County.  We believe in:
Safe, high-quality, affordable public education for all our children.
A strong and vibrant local economy.
Equal job opportunity for everyone and a fair, living wage.
Affordable healthcare for everyone.
As Democrats we stand for hope, equal opportunity, and fairness in our political system.  We are working hard to preserve and restore these values with meaningful progress and change.
We meet each month for fun and fellowship, and to discuss Democratic leadership and opportunity in Eaton County.  Meetings are held at 6:30 p.m. the third Thursday each month and are held at the Log Jam Restaurant in Grand Ledge.
Come join us!   We hope to see you soon!
Joseph D. Chin, Jr. 
Chair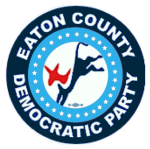 2019 ECDP Goals
To maintain and increase membership in the Eaton County Democratic Party.
To provide support for Democratic party candidates at all levels with a priority to offices immediately affecting Eaton County.
To ensure a Democratic precinct delegate in every precinct in Eaton County.
To ensure a Democratic candidate in every partisan race in Eaton County
To raise funds to support Democratic candidates for partisan offices in Eaton County.

Mission
Uniting all Democrats in Eaton County for the purpose of supporting and electing Democratic candidates for local, county, state, and national offices.

Vision
To hold a Democratic Party majority at all levels of government.
Contact Your ECDP Officers: