Eaton County Democratic Party Meetings
All Meetings are held at the Log Jam Restaurant, 110 W Jefferson St, in Grand Ledge, Michigan.  Doors open at 6:00 p.m. and meetings start at 6:30 p.m.
Meeting Dates: 
Thursday, June 20, 2019
Thursday, July 18, 2019
Thursday, August 15, 2019
Thursday, September 19, 2019
Thursday, October 17, 2019
Thursday, November 21, 2019
Thursday, December 19, 2019
Representative Angela Witwer Coffee Hours/Happy Hours
May:
May 23: 5:30-6:30 p.m.; Charlie's Bar & Grill, Dimondale, MI (HAPPY HOUR)
Save the Date!
The MDP Legacy Dinner
May 18; 2019
Marriott Renaissance Center
Detroit, MI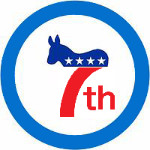 7th Congressional District Democratic Party Meeting 
Thursday May 23rd 2019
6:00 p.m. 
 UAW Local 723, 281 Detroit Ave, Monroe, MI 48162 


Executive Committee and General Membership Meeting
Please plan to attend our May Meeting with a presentation from Mark Brewer, the attorney for the League of Women Voters First and Fourteenth Amendment challenges to the state and congressional redistricting plans.
Crowning & Cultivating : Women In Leadership Colloquium!
Event Date: June 1 | 2019
Time:   1:00 PM – 4:00 PM
Where: Plumbers local 98 555 Horace Brown
Madison Heights , MI 48071
This is an event that is aimed to empower, encourage and educate!
Come share your stories and hear the stories of other powerful women. Come out and enjoy a complete transforming  experience. The topics that will be decoded are; Women in Faith, Politics, Business, Media, Education, Labor, The Justice System and Veterans. This will be a truly unique experience that must be had. Women will be asking and answering the tough questions. It will be an unforgettable experience. Come share a little piece of you with others.
Concert in the Park
June 19, 2019
6:00 p.m. – 9:00 p.m.
Fulton Park – 4300 Sheffield Drive, Lansing, MI 
Activities and Food Trucks available at 6:00.  Music begins at 7:00 
Concerts in the Park (Click for Additional Information)