CHARLOTTE, MI — Tom Reich today filed his official paperwork to run for re-election as Eaton County Sheriff.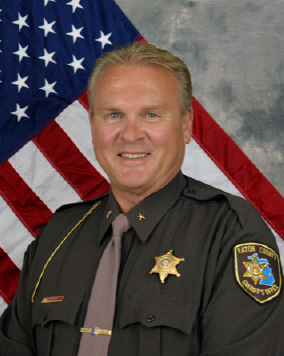 "Serving as Eaton County Sheriff is a great honor and one that I don't take for granted. The people of this county have entrusted me with an important job and I look forward to getting out soon to talk to more residents about my campaign," said Reich. "I truly enjoy going to work every day with the brave men and women who serve as deputies, corrections officers, animal control, and staff at the Eaton County Sheriff's Office and hope to do so for another four years."
Reich was first elected Sheriff in 2012, and re-elected in 2016. Since taking office he has implemented policies to ensure the Eaton County Sheriff's Office is a professional and responsible law enforcement agency. Reich's policies include yearly training programs to Deputies in 'Fair & Impartial Policing' and 'Verbal Defense & Influence', two nationally recognized programs for de-escalation and conflict management. He has also developed a mental illness crisis intervention team training program to better prepare Deputies to handle these complex situations. In 2019, Reich was named Michigan Sheriff of the Year by the Michigan Sheriffs' Association.
"As the COVID-19 emergency has shown us, now more than ever Eaton County needs calm, steady leadership in times of crisis. I take my role as Eaton County's top cop very seriously and will continue to work on behalf of all residents to ensure the safety and security of our communities," Reich concluded.
Recently appointed by Governor Gretchen Whitmer to the newly-created Michigan Suicide Prevention Commission, Reich also serves on several other boards, including as Vice-President of the Lansing Area Safety Council, Michigan Intelligence Operations Center for Homeland Security Advisory Council, Eaton County Veterans Court Board, Eaton County Adult Drug Court, Eaton County Community Corrections Board, and others.
His law enforcement career includes roles at the county and state level. Reich worked for 25 years at the Ingham County Sheriff's Office, and prior to election as Sheriff, served as the Gaming Director at the Michigan Lottery where he was responsible for the regulatory enforcement of the state Gaming Act.
Reich is a graduate of the Federal Bureau of Investigation Law Enforcement Executive Seminar, the National Sheriffs Institute, and Lansing Community College. He has three grown children and resides in Eaton Rapids with his wife, Michele.
Learn more about his campaign for Sheriff at: www.TomReichForSheriff.com
The information contained in this statement is the sole property and responsibility of the candidate and candidate committee. This publication does NOT constitute an endorsement on the part of the Eaton County Democratic Party. It is ECDP's policy not to endorse candidates before primary elections. Questions can be directed to ECDP.